ORDNANCE & EXPLOSIVE
DISPOSAL
Explomo has a well trained pool of EOD and Ammunition engineers who have extensive experience in planning and managing a wide range of EOD projects all in Asia and the Middle East. All our explosive engineers and technicians are ex-military personnel specializing in handling UXO and the management of large scale land remediation works.
We have very stringent quality assurance methodology and comprehensive Standard Operating Procedures in executing all our jobs.
Explomo is capable of undertaking the disposal of time-expired, surplus stockpiled or damaged ordnance in countries where the mandate for commercial companies to undertake such work exists.

Open disposal of ammunition & ordnance
The term UXO disposal refers to the act of removing or otherwise neutralizing the military potential of munitions. Such neutralization is to be carried out in a safe, cost effective and environmentally responsible manner. UXO disposal is a necessary step for military items prior to their release to a non-military setting.
This involves the disassembly of obsolete or unserviceable ordnance from military inventory into non-military and non-explosives components. The explosives materials are recycled with a specialized explosive incinerator equipped with the state of the art air pollution control filtration system.
The UXO disposal market today is highly fragmented with many vendors offering multiple solutions. Organizations find themselves confused and frustrated by the many systems needed to implement an effective UXO disposal project. Explomo Technical Services addresses this issue by integrating the best of breed technology to create a one-stop-solution.
Explomo have extensive experience with projects of such nature and can therefore assist our customers in gaining more strategic value for your UXO disposal needs by implementing proven solutions, support and maintenance. The strategic value includes improved productivity and quality, reduce costs, deliver better and faster service and provide local access to services. Below captions are some of the demil plant and equipment at our overseas demil facilities.
UXO disposal inexcess
of 350 Tons Ammunition
in Taiwan ( 2000 to 2011)
UXO disposal of 8000 Tons
of Ammunition at
our Leased Overseas
Facilities (2008 to 2014)
UXO disposal of 4000 Tons
of Ammunition at our leased
Overseas UXO Disposal Facilities
(2010 till present)
Build, operate and transfer
a UXO disposal equipment and facilities for foreign and local defence industries.
(2010 to 2011)
Flashing of small arms fired cartridges
into 5 X Free From Explosives Status
The conversion of 3X small fired cartridges to 5X status is carried out using the furnace APE 1408.This equipment is currently being deployed in the Military to ensure all scrap leaving into the commercial sector are being classified 5X.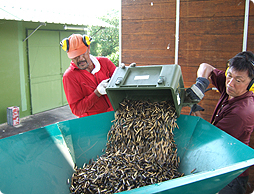 One of the services undertaken by the Explosives and Ordnance Services in Explomo is the Removal of Ordnance stuck in Sand Dredges.
Sea dredging operation in Singapore is a major activity in Singapore reclamation project. During the operation, many of the dredgers often encounter ordnances wedged in their dredger suction head. As these are live ordnance, the proper and safe removal by Explosive Ordnance Specialist is required.
Explomo Technical Services Pte Ltd provides Explosive Ordnance Specialists to identify, remove and dispose of ordnance (ie War Relics) encountered during the dredging operations.
Since the early 2000, our clients from the dredging reclamations industry that have engaged our expertise to remove the ordnance include: Jan De Nul N.V., Penta Ocean Construction Co. Ltd, Van Oord Dredging and Marine Contractors, etc.